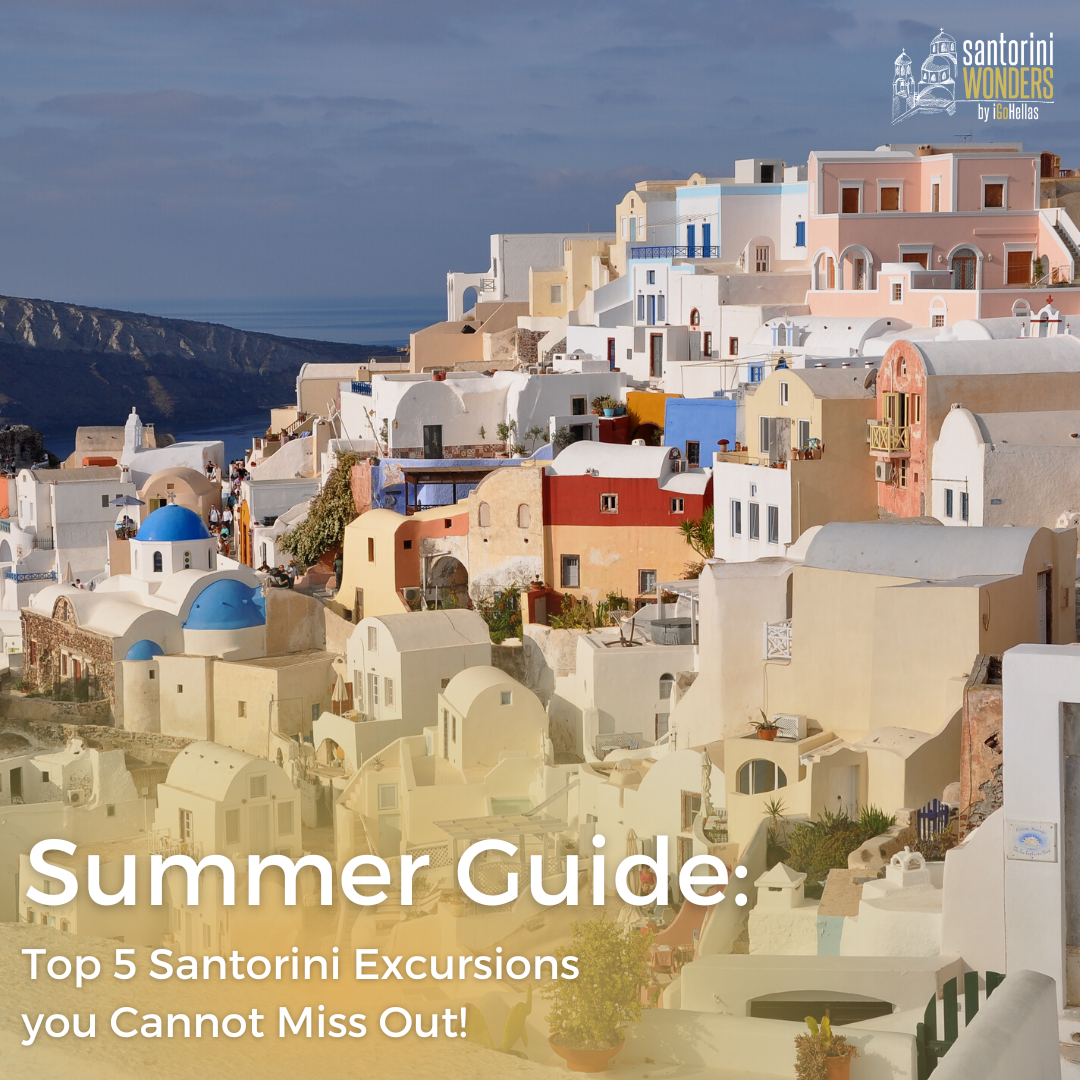 Summer Guide: Top 5 Santorini Excursions you Cannot Miss Out!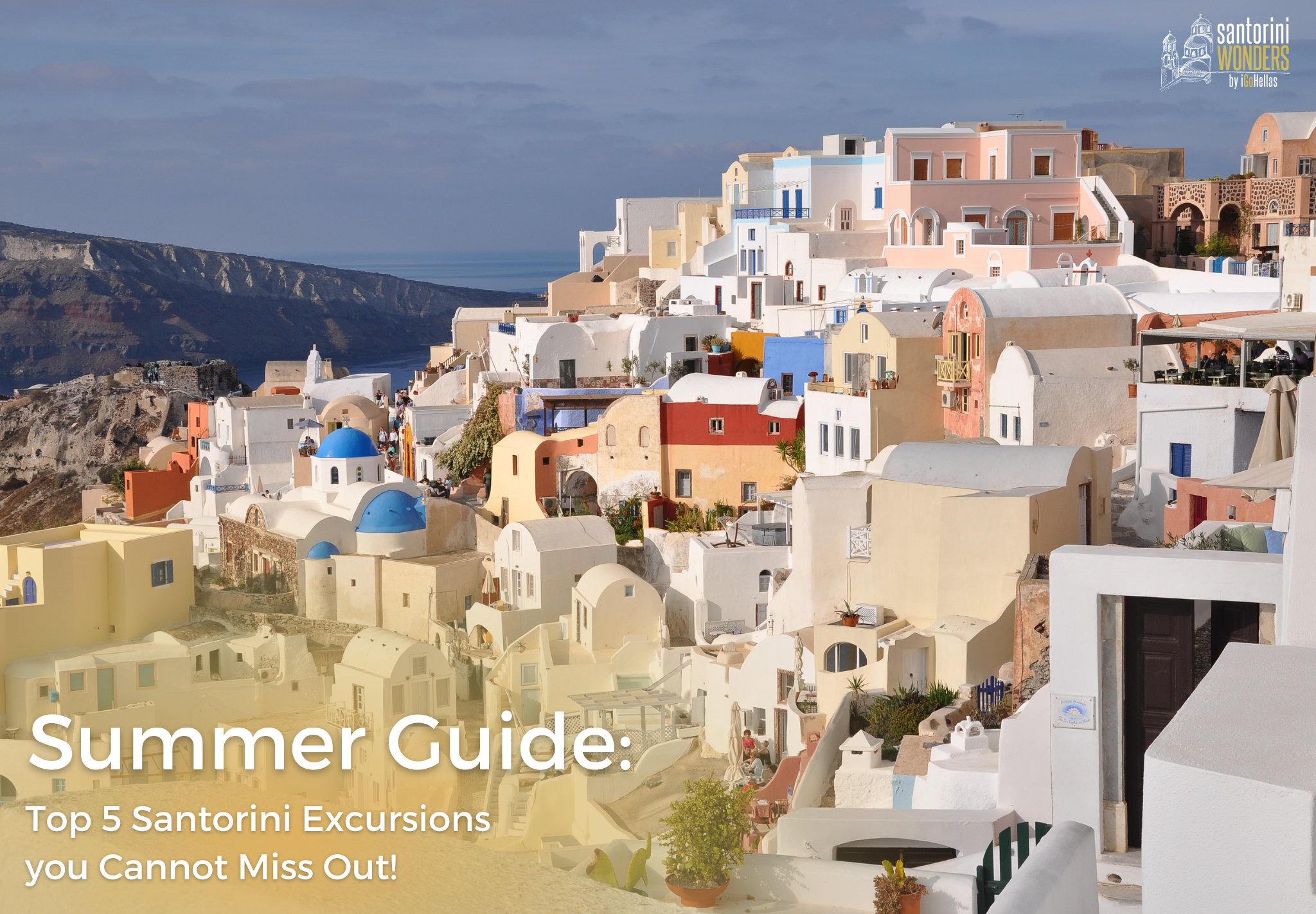 Located on the south part of Greece, Santorini is well-known for its stunning panoramic sea views, impressive whitewashed buildings and unforgettable excursions around the island.
Santorini Excursions through the eyes of locals!
Attracting visitors from all over the world, it might be sometimes challenging to avoid overcrowded places. This is why, the following guide will give you the information you need to uplevel your vacations and choose the best Santorini tours for you and your company. Stay tuned!
#1 Sightseeing Tours
Sightseeing in Santorini is a must when visiting the island. In Santorini Wonders we have customized private tours, in order to choose the one that fits best for your needs and interest.
Some of the highlights of the island to keep in mind are:
Oia

Firostefani

Monastery of Prophet Ilias

Pyrgos or Megalochori village

Red and Black Beach
All of the above you can find them in a all-inclusive Highlights Private Tour.

#2 Winery Tour
If you want to join the best Santorini excursions, then wine tasting is another must. Just think: What could be more alluring than enjoying a mesmerizing sunset along with local wines? According to our experience, nothing else! 
On a typical wine tour, you will sample multiple staple wines such as Nyceti, Assyrtiko and Vinsanto, eat local delicacies and meet with locals that will give you the true vibes of Santorini. Plus, we have round-trip transportation, so don't worry if you drink one glass of wine or two!
#3 Photo Tour
It's difficult to imagine a place more photogenic than Santorini. Our four-hour highlights photo tour was designed with shutterbugs in mind.
Guests will have the chance to visit some of the island's most impressive attractions at just the right time to capture them in all their splendor. Don't expect to run into hordes of tourists, because the tour focuses on less busy areas frequented by locals more than visitors.
#4 Guided Tours
Fourth on the list, is our private guided tour. For those who want to learn and explore the history of the island. Guided tours include visits to the main monuments of Santorini while our licensed guides explain the history and the highlights of each place. 
And if you think a guided tour is not as enjoyable as the rest of the tours, then think again!
#5 Boat Cruise
Last but not least, the sea. Whether you are a catamaran or a boat person, sailing the Aegean waters is a unique experience when visiting Greece. 
Besides the tour to the southern coastline,  passengers are welcome to dive into the crystalline waters for a swim or to explore the rich sea bed of Santorini. Our boat tours also include:
White Beach

Black Mountain

Lighthouse south of the Caldera and more
End the tour with a luxury greek dinner on boat. Click here if you want to see all Santorini excursions with boat!
Hope this article was helpful! Don't forget that in Santorini Wonders, a whole team of local experts are ready to give you a lifetime experience. Book online your trip or contact us for more information at  info@santoriniwonders.com.