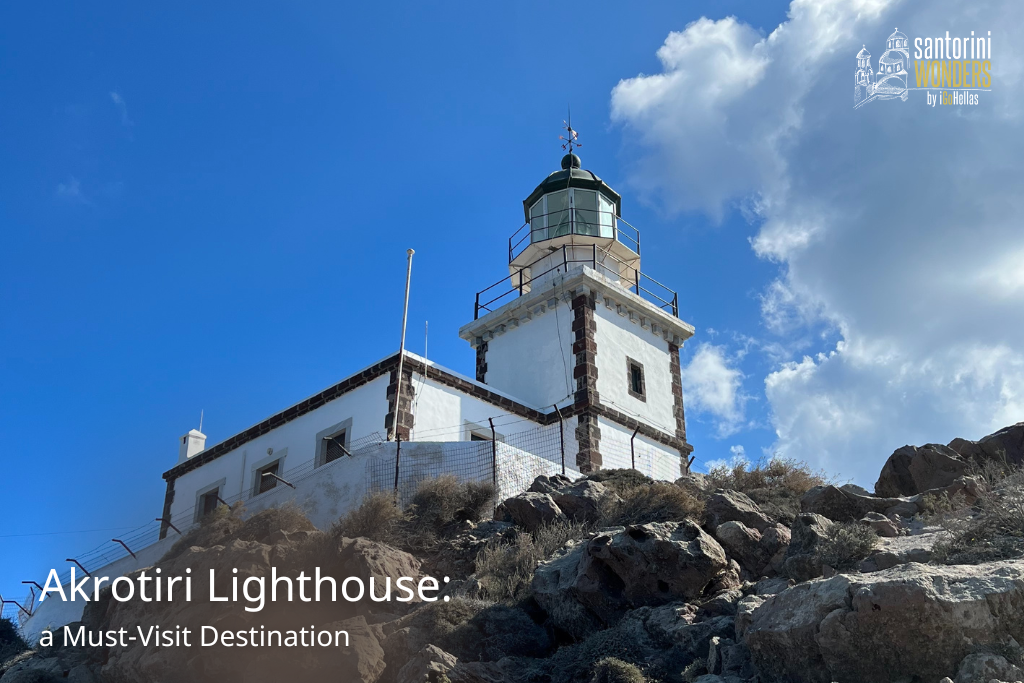 Akrotiri Lighthouse: a Must-Visit Destination
The Akrotiri Lighthouse, located on the island's most southwestern point, is one of the most beautiful places in Santorini, offering breathtaking views.
The Lighthouse was erected in 1892 by a French trading company and is regarded a very important location because it is one of Greece's first lights. Before 1893, when it was connected to electricity, it was powered by petrol fuel for the first 100 years and was operated manually by a human. It was deactivated during World War II and was not repaired until 1945 by the Greek Navy.
The Lighthouse is built just above a little building with whitewashed walls that used to be the house of the warden, who was in charge of it during its early years of operation, and it reaches a height of 10 metres. It is still active today, emitting a dazzling white light over the sea every 10 seconds and contributing to the safety of passing ships.
How can someone visit the Lighthouse?
This gorgeous Lighthouse is located on the edge of a high cliff just above the sea in the pleasant and peaceful village of Akrotiri. It is 5 kilometres from the village centre and a 26-minute journey from Fira Town. There is no direct bus to the location, as buses departing from Fira bus station only go to the middle of Akrotiri village. As a result, driving or using a taxi is the most convenient way to get there.
Why should you visit the Akrotiri Lighthouse?
Santorini is most known for its stunning sunsets and the colours reflected in the little white dwellings constructed on the massive Caldera cliffs. Another renowned spot from which to view the breathtaking sunset is the Akrotiri Lighthouse. You may witness the amazing view of the crimson sun diving into the Aegean Sea while sitting on its outer wall or on the rocks around it, creating a unique romantic environment that takes your breath away. It is the ideal time to visit this lovely area with your sweetheart and unwind while taking in the breathtaking sights.
Visitors may also see the majestic Santorini Volcano, which stands opposite, in the middle of the sea, as well as the massive Caldera cliffs, which are home to little charming settlements.
It is highly recommended that you see the famous Excavations of Akrotiri and possibly take a refreshing dip at the unique Red Beach with its exceptional hue before approaching the place to savour the spectacular sunset.
Book a Tour which give you the chance to visit the must-visit destination of Akrotiri Lighthouse!