Find your special tour today
VIEW TOURS

with iGoHellas




Best Price
Guarantee
Easy & Secure
Booking
Official Local
Guides
Great Reviews
Brand New
Vehicles
Free Cancellation



FIND A TOUR
Choose your Tour by Destination
Santorini Tours: Luxury & Private Day Tours
If you are looking for a top private Santorini Tour, it is up to you to let us know and organize the most suitable tour for you.
Santorini Wonders is a travel agency that takes into consideration not only the unique scenery of the island, thus the stunning views from the famous caldera, but also your personal expectations, your appetite for learning and the time you are willing to spend on every desired location.
Santorini Tours: Choose the Perfect for You
Depending on your needs, you can choose among a variety of tours & activities, such us: Sightseeing Tours, Wine Experiences, Guided Tours, Insta Photo Tours, Catamaran & Boat Cruises, Tailor Made Tours by Locals. Experienced local guides and professional drivers will make your dream come true, informing you about the history of Santorini, story of the volcanic eruptions and taking you to every famous part of the island or everywhere else you wish to go.
Why choose Santorini Wonders?
Beyond the magical scenery of Santorini, in our agency you can find:
Unique Experiences: A tour by Santorini Wonders will bring you closer to Santorini's Magnificence.
Tours by Locals: Tour around Santorini, accompanied by a local friendly guide, introducing you to the culture and the hidden treasures of the island.
Island Explorer: There are lots of recommended activities, which will make your trip unforgettable. Just trust the experts, who are responsible to make your travel wishes come true.
Flexible tour options: We provide private tailor made tours according to your needs, while your guide takes the best care of you.
Our Culture
We love what we do and we do what we love. Our culture is to share with each visitor the special beauties of Santorini island through an authentic customized experience. Our endeavor is each visitor return back to his home with beautiful images and unique experiences.
What we Offer
Easy & Secure Booking
Official Local Guides
Flexible Tour Options
Brand New Vehicles
Free Cancellation
Best Price Guarantee
And if you need further information don't hesitate to contact us! Just send us email at info@igohellas.com or call us at +306907591209 and our team will reach you as soon as possible!
SANTORINI BLOG ARTICLES
Learn Useful Information & Tips for your Trip in Santorini!
When it comes to exploring the breathtaking beauty of Santorini, Greece, there's no better way to do it than on a private catamaran cruise. This exclusive experience offers a plethora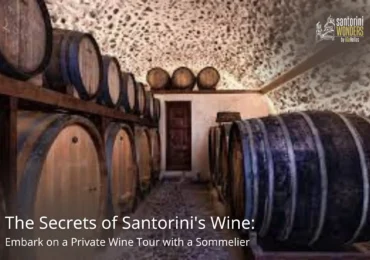 An article by Kostas Chatzikyriakidis*
Santorini, the enchanting island in the Aegean Sea, is renowned for its breathtaking sunsets, charming villages, and captivating history. However, there's more to this
Nestled next to a mesmerizing black beach, Gaia Winery stands as a beacon of luxury and indulgence for wine enthusiasts. With its stunning location and exquisite wines, Gaia Winery offers