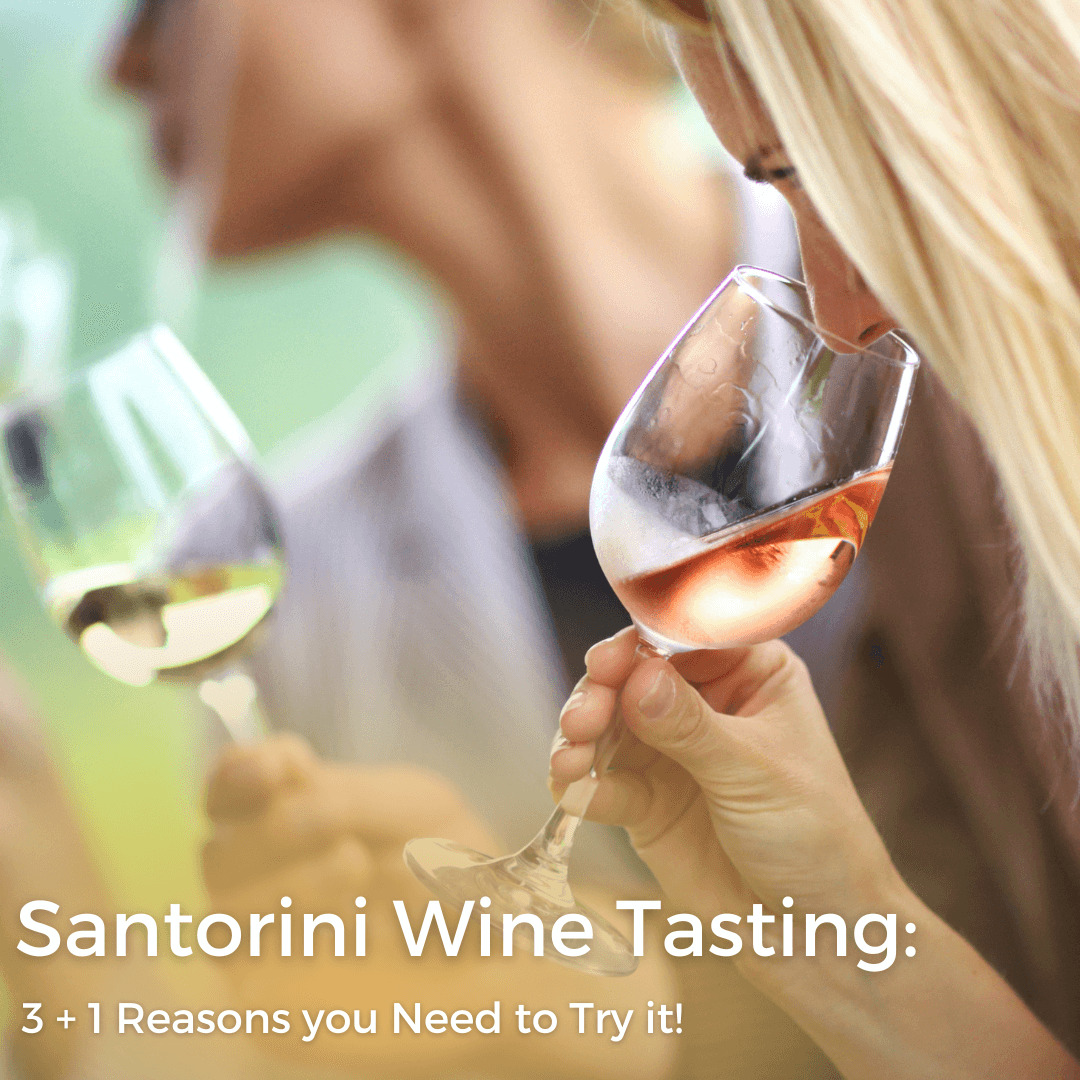 Santorini Wine Tasting: 3 + 1 Reasons you Need to Try it!
Santorini is one of the most popular tourist destinations in Greece, known for romantic walks and gorgeous sunsets. On top of that, you can enjoy exquisite wine tasting in luxury private tours.
From Past to Present: Santorini Wine Tasting Recap
Winemaking goes back 3,500 years on Santorini, an island also believed to be the lost city of Atlantis. It's not easy to produce wine on an island with searing summer sun, harsh winter wind, and volcanic earth. 
But over 50 varieties of white and red grapes thrive in the vineyards, including the ancient varietal Assyrtiko. The enriched lava soil includes absorbent pumice that holds onto moisture and so even on the hottest days, the grapes have enough water at the root. 
Here are four reasons to convince you wine tasting is a luxury, yet necessary experience when visiting the island.

1. Variety of tastes
There are over 18 wineries on Santorini and it's a top destination for wine tourism in Greece. So, whether you are a dry-wine fan, semi-sweet or sweet, you are definitely going to find your ideal taste.
Some of the best wineries have tasting rooms on the cliffs overlooking the caldera. It's a romantic place to sip wine, especially at sunset. The best time to visit Santorini is right after the crowds head home from September to October, or in late spring from April to May. 
2. Tour for two..or more!
Yeap, correct. If you want to enjoy your fine wine in a silent and peaceful environment, no problem. We've got you covered.In Santorini Wonders, we organize daily private wine tours, for two people or small groups that take you to specific wineries. 
Duration might vary, between 4-6 hours, depending on your preferences. Plus, you don't have to worry about driving the narrow roads, especially after tasting several wines at multiple wineries, since we have round-trip transportation!
If you want to see more wine tours in Santorini check us on our website and book on one click!

3. Combine wine tasting with sightseeing!
Some of our wine tours include winery and sightseeing, such as Hidden Gems with Wine Tasting tour, which gives you an extended viticulture tour on Santorini. 
Pro Tip: Santorini has so many attractions. If you cannot find your ideal tours, just contact us and our professional cream will guide you to find the best customized tour that fits perfectly with your needs.
4. Meet with locals and learn Santorini's history
Last but not least, it's the people. Greece is known for the friendly and polite citizens that serves high value services. Whether you are by yourself or with family and friends, you have the chance to meet with locals and exchange cultural experiences.
And that's it! We hope we gave you extra motivation for your summer wine tour. Check our website for availability and prices, and leave the rest on us! Enjoy!