Discover Imerovigli Village
Imerovigli is Santorini's quietest settlement along the caldera. The village is peaceful and romantic! It is positioned on the caldera's highest point, 300 meters above sea level, midway between Fira and Oia, with unimpeded sunset views that equal those of Oia, Santorini's most famous sunset site. The caldera, Skaros Rock, the Nea Kameni volcano, Thirassia island, and the deep blue Aegean Sea can all be seen from the cliffs of Imerovigli. Because of its beauty and solitude, Imerovigli is a popular romantic destination and an insta-worthy vistas spot. Some sections of the hamlet are set back from the caldera, creating a maze of narrow cobblestone and cobbled lanes adorned with brightly colorful flowers, white-washed buildings, blue-domed churches, high-end dining, and casual restaurants.  Imerovigli doesn't have many restaurants, but the ones that do exist are all excellent to excellent, and virtually all offer caldera views. There isn't anything to do at night.
Throughout the village of Imerovigli, there are many luxury hotels with infinity pools, as well as less costly studios and apartments. Because of its proximity to Fira, Imerovigli is an excellent choice for those seeking peace and quiet while still being close to sightseeing, restaurants, and nightlife. Fira and Imerovigli are around a 20 to 30 minute walk (about 2.5km) apart, or a relatively short bus or taxi ride. The walk into Fira from Imerovigli is easy and mostly downhill; if the uphill trek back to Imerovigli is too strenuous after a large supper or a night out, a cab in Fira is easy to get.
Skaros Rock
Skaros Rock, a massive rock formation formed by volcanic activity and molded over generations by earthquakes and erosion, is one of Imerovigli's main attractions. Skaros Rock extends into the sea from the caldera cliffs and can be seen from almost everywhere in the village. It is one of five fortified communities on the island that date from the island's Byzantine and later Frankish administration (the others being Akrotiri, Emporio, Pyrgos and Oia). Because the Aegean coast was plagued by pirate invasions at the period, strategic and inaccessible locations were chosen for these villages.
Skaros Rock is frequently visited as a short side trip while hiking the Fira to Oia trek, but it is equally worthwhile as a stand-alone adventure. The trail to Skaros is found by descending a steep winding stairway just below the Grace Hotel in Imerovigli. The path starts with concrete steps and a thin wire guard rail before changing to a gravel path with no barrier. Panagia Theoskepasti, a little medieval church tucked into the bluffs on the other side, and a 13th-century Venetian fortress at the summit. It takes at least an hour round travel to Skaros Rock, longer if you climb to the summit or remain to picnic and enjoy the views.
Hiking Trail from Fira to Oia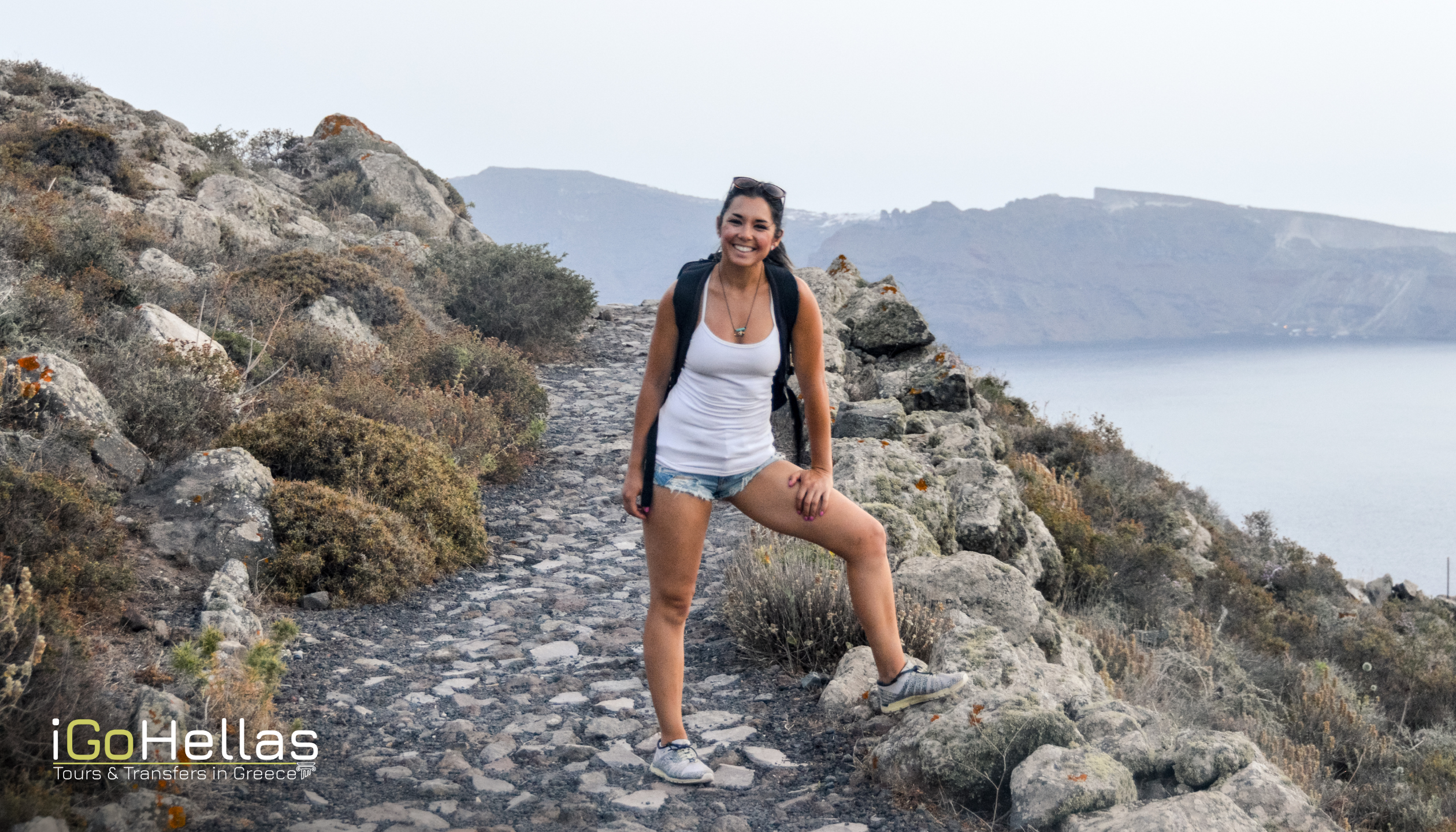 Imerovigli is located right in the heart of the Fira-Oia hiking trail. This 10.5-kilometer trail winds along the caldera cliff, passing through the communities of Fira, Firostefani, Imerovigli, and Oia. The hike takes between 2 and 5 hours to complete, depending on how fast you go and how frequently you stop. Part of the walkway is like a sidewalk, part of it is cobblestone, and part of it is a dirt path. There is a decent ascent in both ways. Both Fira and Oia are primarily downhill walks from Imerovigli. If going to Imerovigli, the ascent from Oia to Imerovigli is long and gradual, making the elevation shift more manageable; the hike from Fira to Imerovigli is both shorter and steeper. The Oia-Fira Trail is not suitable for strollers or bicycles. In terms of difficulty, most 7-year-olds would have no trouble finishing the walk because the trail is of decent quality, but it is a very long trek for anyone under the age of 10. It's around 2.5 km from Imerovigli to Fira (about a 20-30 minute walk); it's about 7.5 km from Imerovigli to Oia (at least a couple of hours' walk).