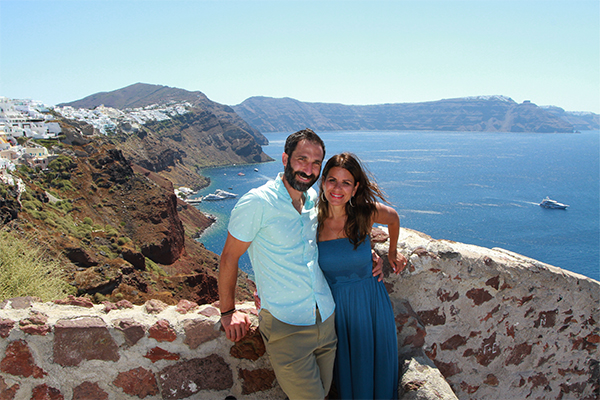 Top Activities to Do in Santorini
Santorini is one of Greece's most sensual destinations. The Aegean Sea's multicolored and varied treasure has an astonishing and astounding beauty. Its enthralling intricacies can be discovered while on the island via planned shore excursions and individual guided tours. You may have seen millions of postcards or images of this half-moon-shaped island, but you will be shocked when you arrive. It's one of the few sites on the planet where you can walk on the edge of a raging volcano while enjoying crystal pure blue seas.
Santorini has established a growing reputation as a romantic and – why not? – wedding destination for couples and lovers during the last decade (not only from Greece but also from all over the world). As a result, a visit to Santorini is a must. For those who have seen images of the island's breathtaking Caldera and tragic sunset, it is a fantasy come true. But exchanging kisses at the cliff's edge as the sun sets isn't the only romantic activity available on the island! There are additional adventures you'll have to share with your partner.
Stroll around Oia
The most recognizable spot of Santorini, it's northern side Oia a colorful community with whitewashed cottages perched on a rock overlooking the Caldera and volcano. Wander around its winding paths while inhaling the salty air and smelling the Mediterranean smells and admiring the wide vistas of the sea and sky.
For its breathtaking vista and romantic ambiance, this cosmopolitan village, a rainbow of hues, is a favorite haunt of artists, painters, photographers, and lovers. Oia occasionally appears unreal, as if it has escaped from movies and dreams. This picturesque village is undoubtedly one of the most photographed in Greece, if not the entire world. Even if you're only going to Santorini for a few hours on a cruise, don't miss out on exploring the island's natural splendor with one of our cruise ship guest tours.
Swim at the Red Beach
Passion is symbolized by the color red. The island's most famous beach, Red Beach, is located in Akrotiri, about 20 minutes south of Fira. A trip to a beach that is painted in the color of love will put you and your companion in a romantic mood. If the God of Love has a safe refuge, it's a cove on Red Beach where you may swim while admiring the cliff's various colors reflected in the blue water.
Eat fresh seafood in Ammoudi Bay
Ammoudi Bay is a little fishing harbour nested between volcanic red rocks and the Aegean Sea, some 300 steps below the town of Oia. The views are superb at any time of day, but the golden glow of the setting sun transforms them into absolute enchantment. Enjoy your dinner with your other half while eating local products and traditional recipes mixed with international ingredients to create astonishing plates.
Admire the sunrise
Grap the chance to admire the beautiful sunrise from the highest spot of Santorini. Watch the morning diew from the Mountain Profitis Ilias, where the homonymous monastery is located. Feel free and seize the opportunity to admire the outstanding view of the island, the caldera and the neighboring islands from the highest point of Santorini – 2.000 feet (600 meters) above sea level.
Enjoy a wine tasting experience
Relax and enjoy a classic and informative Santorini Wine Tasting Tour! Experience the extraordinary sunset of Santorini as you sip a glass of Vinsanto, a Santorini sweet specialty made from dried grapes, at a winery perched upon the caldera cliffs.
Regardless, if you are a young couple in love, honeymooners or even if you are celebrated your fiftyth anniversary Santorini is an ideal location. We are always at your disposal to fulfil your wishes and desires. We will make your trip an unforgettable romantic experience.