First Time in Santorini: What to Know Before You Go
Santorini is one of the most popular tourist destinations in Greece, and for good reason. With its stunning beaches, picturesque villages, and iconic blue domed churches, it's no wonder that millions of visitors flock to this island every year. But if you're planning your first trip to Santorini, there are a few things you should know to make the most of your experience. In this article, we'll cover some tips and advice to help you prepare for your first time in Santorini.
---
Getting There and Around
Santorini is an island, so you'll need to take a flight or ferry to get there. Santorini's International Airport is located on the eastern side of the island. If you're arriving by ferry, you'll likely dock at the main port of Athinios, which is located on the western side of the island. From there, you can take a cab to get around the island.
Best Time to Visit
The best time to visit Santorini is from late April to early November, when the weather is warm and sunny. July and August are the busiest months, so if you want to avoid the crowds, consider visiting in May, June, September, or October. Keep in mind that prices for accommodations and activities may be higher during peak season.
Where to Stay in Santorini
Santorini has a variety of accommodation options, from luxury resorts to budget-friendly hotels and guesthouses. If you're looking for a romantic getaway, consider staying in one of the many boutique hotels in Oia, which is known for its stunning sunsets. If you're on a budget, look for accommodations in Fira or Kamari, which have more affordable options.
Exploring the Island
Santorini is a relatively small island, but there's plenty to see and do. Some of the must-see attractions include the ancient ruins of Akrotiri, the black sand beaches of Perissa and Kamari, and the village of Pyrgos, which offers panoramic views of the island. A sightseeing tour with our local guides will bring you closer to Santorini's Magnificence. You can also book a boat tour to see the volcano and swimm to the hot springs or hike along the caldera path from Fira to Oia.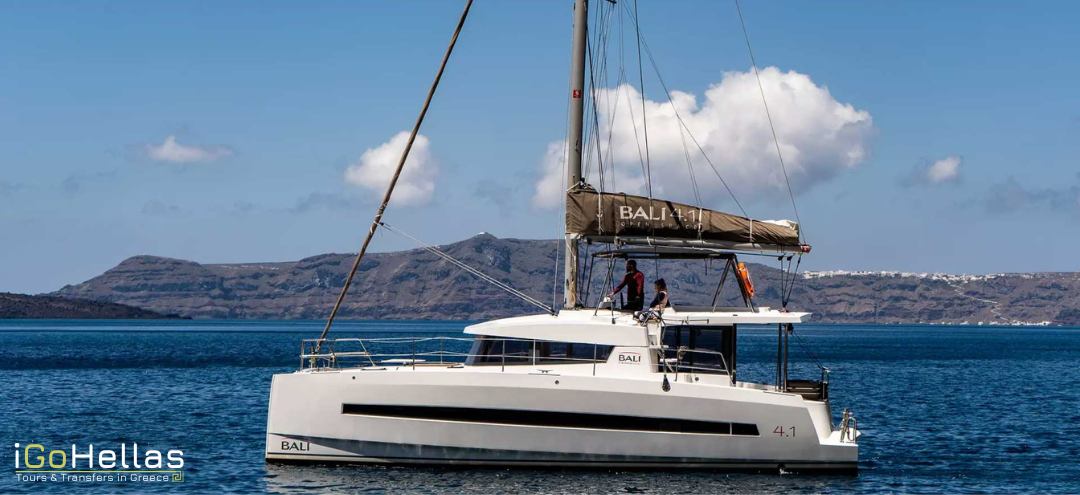 Local Gastronomy and Wine
Greek cuisine is known for its fresh and flavorful ingredients, and Santorini is no exception. Some of the must-try dishes include fresh seafood, grilled meats, and Greek salads with feta cheese. Santorini is also known for its wines, particularly the white wine made from the Assyrtiko grape. You can sample local wines at one of the island's many wineries or enjoy a glass at a seaside taverna. And take the chance to learn about the famous wine culture of Santorini by booking a wine tasting tour.
Santorini is a truly magical destination that offers something for everyone, whether you're looking for a romantic getaway, a family vacation, or a solo adventure. By following these tips and advice, you'll be able to make the most of your first time in Santorini and create memories that will last a lifetime.