What to know about the Wine Tours in Santorini
In addition to its idyllic landscape, enchanting sunsets, crystalline waters, stunning volcanic coastlines, and beautiful natural surroundings, Santorini is well-known for its award-winning wines. Indeed, the island's gastronomy is strongly imbued with the distinct flavours and fragrances of the island's wines, whose winemaking roots date back to antiquity. It's no surprise that wine tasting in Santorini is in such high demand every year.
What makes a wine tour in Santorini so fascinating is that it is generally accompanied by local foods such as fava and other goodies (or even a full meal). That way, you may tour the top vineyards in Santorini, experience taste and internationally acclaimed wines, and satisfy your appetite with Santorini specialty dishes and Greek cuisine.
Discover the secrets of Santorini's Wines
Many people ask what makes the wines produced on the island's volcanic soil so unique. Everything feels wonderfully integrated (and in complete harmony) with one another – the fantastic colour; the distinct flavour; the spice taste. And, when one considers the difficult conditions under which the grapes grow (i.e., lack of rainfall, little-to-no organic material, etc.), one may appreciate how incredible, if not miraculous, the production of local wines truly is.
Wine specialists believe that the natural phenomena that nearly devastated the island in its entirety around 1,600 BC left the Queen of the Cyclades with solidified lava, volcanic sand, volcanic ash, and pumice stone – a dynamic mixture that enhanced the soils with critical minerals. These also provide the ground a strong acidity and a naturally low PH level, which gives the wines their distinctive savoury tangs.
Many things appear to be working in the island's favour, given that the meltemi winds (strong northern winds that blow in the Cyclades complex) are cool and utterly revitalising and help not only keep the acidity of the vine cultures at optimal levels, but also make the soil an inhospitable environment for vine-related diseases.
Another great detail that you'll most likely learn from a visit to a Santorini winery is how the earth here gets the necessary water. The ground has become exceedingly porous as a result of the previous huge volcanic eruption, allowing water from the very sparse rainfalls to be absorbed swiftly. Furthermore, a refreshing (for the soils) night fog is caused by the still active volcano. Finally, the salty spray from the sea mist adds a pleasant flavour to the grapes.
Wine Experience in Santorini – Tips
The best wine-tasting tour is one that fulfills all of your boxes in terms of taste, special experiences, and wine-making knowledge. In fact, the more you learn about how local wines are made, the more you will enjoy what they have to offer your taste buds. The cultivation process used here, for example, is unique to the world. Local pruning teams with extensive skill train the vine canes into continuous loops that form a basket-like wreath (named Kouloura) that shelters the vine from the harsh summer sun and strong winds while trapping moisture from the sea mist. To say the least, incredible!
Other intriguing facts you'll learn during a Santorini wine tour:
Phylloxera, which devastated most vine roots in Europe in the 2000s, is the most common vine-infesting insect. It had little effect on the Santorini vines, however, because the volcanic soil did not allow it to spread.
The most well-known local wine is Assyrtiko (dry red wine), which is followed by the PDO-awarded Vinsanto (dessert, sweet wine). On the other hand, the island is home to over 50 grape types!
Subterranean arched cellars, known as Kanaves by the locals, are part of the architecture of some of Santorini's top vineyards.
Cold cuts and local cheese are the most typical accompaniments to a wine tasting excursion in Santorini.
Choose a tour that includes visits to many local wineries.
Please arrange your visit as soon as possible because the wine-making and tasting endeavours here fill up quickly.
From May through October, you may generally visit a Santorini winery.
Choosing the Best Santorini Wine Tour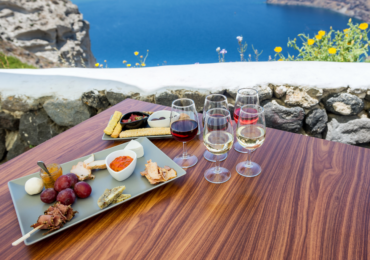 First and foremost, you can absolutely tour the island's wineries on your own. A wine-tasting excursion, on the other hand, will allow you to explore smaller, harder-to-find wineries while enjoying pickup and drop-off services, making navigating the island's topology much easier. Aside from that, it is not advisable to drink and drive.
Having said that, you can choose from a variety of wine-tasting and making trips, ranging from a small-group to a completely private experience. To make this adventure even more exciting, consider taking a sunset wine tour in Santorini, where you can absorb in the island's famous sunset views while also pampering yourself with delectable wines.
What to expect from a wine adventure in Santorini:
A wine trip lasts a few hours (usually 4-5 hours) You will visit three of most famous local wineries, Venetsanos, Argyros Estate Winery and Art Space Wine Museum Art Gallery. However, it would be a mere understatement to say that these are the only ones worth visiting.
A private tour caresses the senses of the most delectable wine connoisseurs, who appreciate attention to detail and intimacy. It is a superb idea for a couple or even solo wine lovers and typically lasts several hours, depending on the itinerary and overall type of experience provided/required.
A sunset journey usually includes stunning views of the caldera, the countryside, or the tranquil Aegean Sea. The majority of alternatives begin in the afternoon, take you through the island's top wineries, and end just in time to catch the last golden rays of the sun and feel completely blown away!
The wine experience you choose will determine whether you are greeted with a fully laid table or refreshments. The vast majority of vineyards, on the other hand, provide a sumptuous dining experience that includes wine specialists giving minor secrets and facts about the wines you'll be provided to sample.
The Best Santorini Wineries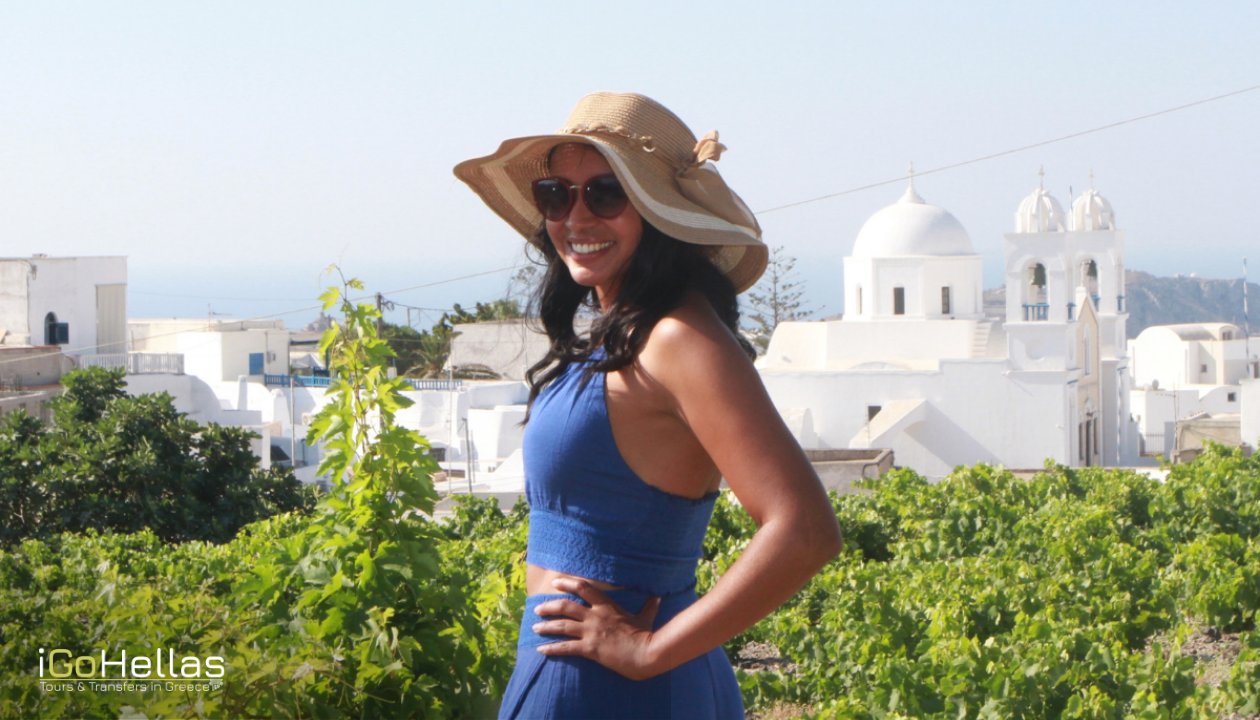 Given that each local enterprise is led by incredibly devoted people, mainly family members who are second or third generation winemakers, distinguishing the local wineries and creating a "Best Of" list is practically impossible. Their wines are very tasty and flavorful. As a result, the following list will serve as a "compass" on where to begin! Feel free to explore your selections; chances are you'll discover many more ways to enhance this enjoyable and fascinating trip that is tinged with a touch of magic as you gaze out at gorgeous views not easily seen in any other region of the world.
Venetsanos (Megalochori region), Santo Wines (Pyrgos area), Argyros Estate (Exo Gonia area), Gavalas Winery (Megalochori town) and Domain Sigalas could be included (Oia village) on the top wineries of Santorini. Of course, don't miss Koutsoyannopoulos Wine Museum (Vothonas area), which features a 300-metre long underground cellar that acts as a wine museum, illustrating the history of Santorini vine farmers and the winemaking business from the 1600s. Art Space Winery offers an equally amazing combination of art, caves, and wine (Exo Gonia village).